Orchard Orb Weaver

Leucauge venusta

Description – The abdomen is elongated and is silvery or white with colored markings. Those markings can be Green, Yellow, Black, Orange, and sometimes pink spots. The Cephalothorax is a light green/yellow with brown stripes on the sides. The legs are a bright leafy green.

Size - The fenales body will grow to just under 5/16" (7mm) and if the legs are included it can reach nearly ¾" (19mm).


Powered by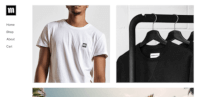 Create your own unique website with customizable templates.